Welcome to
Copeland Auto body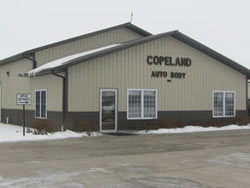 Copeland Auto Body's Mission Statement says it all – To be the area's consistent provider of advanced collision repair. Owner's Steve and Holly Copeland invite you to see what today's state-of-the-art body shop looks like. While no one enjoys the circumstances that bring you to an auto body shop, the Copeland's will make things as easy and stress free for you as they possibly can.
Copeland Auto Body's goal is to maintain its dedication to the body shop industry as they continue to refine their quality, expand their capabilities, increase their efficiency, and elevate the superior level of customer service they now provide while maintaining their commitment to serve others as they like to be treated. Copeland Auto Body provides free estimates, offer their own towing service and loaner cars.
Copeland Auto Body specializes in auto body repair, automotive glass, frame repair, front end alignments, suspension, rebuilder sales, custom painting, pin striping, tire sales and tire repair.
Steve Copeland says, "I truly believe our honesty and understanding of what we in the body shop call TED – Trust, Empathy and Direction sets us apart from our competition. Our main focus is making sure our customers have the best collision repair experience possible."
Copeland's Customer Satisfaction Index scores back up this auto body shop's dedication, scoring consistently in the upper 90% range month after month. Since 1994, Copeland Auto Body has been serving the Hedrick, Fremont, Cedar, Oskaloosa, Delta, Sigourney, Martinsburg, Agency, Eldon, Batavia, Eddyville, Fairfield, Richland, Ollie, Packwood, Ottumwa, IA areas. Bring your vehicle to Copeland Auto Body and expect to be treated the way you wish to be treated and have your car fixed to Copeland's exacting standard in the process.
Copeland Auto Body Photo
Gallery